The unique milling system designed for reduced-manpower operation with self-rotating cutting inserts sets new standards.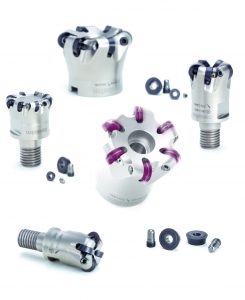 Unique due to its self-rotating cutting inserts, the innovative tool system SPINWORX ® from POKOLM Frästechnik GmbH & Co. KG's product portfolio is a true time saver.
In our continuing commitment to technical excellence, we have just launched new cutting materials for the SPINWORX ® System in the grades P25, P40, K10 and M35, both as high-precision and ground variants. In addition, we have conceived an improved seat and broader race for even higher process safety.
As is typical of SPINWORX ®, the circular discs' cutting edge is worn down 100% uniformly along its circumference. This favourable characteristic of the self-rotating SPINWORX ® circular discs help reduce the manpower requirements in cutting operations as it does away with the need for manual readjustment, thus eliminating machine downtime and non-productive times to an unmatched degree. What's more, the tool system now features increased durability and removal speeds for ultimate productivity.
Tool system expert POKOLM points, in particular, to the brand-new, heavy-duty M35 ground cutting inserts that sets new standards when it comes to the cutting of highly temperature-resistant and titanium alloys as well as stainless materials.
At present, the full SPINWORX ® portfolio encompasses Ø 7, Ø 10, Ø 12, and Ø 16 self-rotating inserts.
[Download not found]