New solid carbide cutters designed for high-effic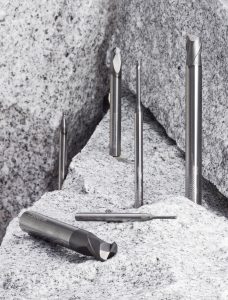 iency machining of tempered steel grades with up to 65 HRC
With a brand new series of solid carbide cutters designed for hard machining applications of up to 65 HRC, precision milling tool manufacturer POKOLM Frästechnik GmbH & Co KG has launched a line of products that will set new standards when it comes to extraordinary durability and excellent quality of finish.
Blade geometries specifically tailored for hard milling applications and a remarkably wear-resistant coating result in extra-long tool life and improved cutting results.
Of special note is the design feature of the special tangential shaft transitions which give the solid carbide cutters a significantly better bending fracture strength in comparison with conventional systems.
POKOLM provides a product portfolio that is fine-tuned to meet the most diverse customer requirements. The solid carbide cutters come with blade diameters from 0.2 to 12.0 mm and machining depths of up to 20 x d.