Even with its smallest diameter, FOURWORX® delivers four times more in high-feed machining: More speed, more feed, more cutting depth and more performance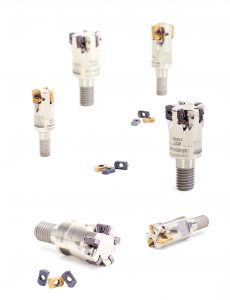 The latest addition to the milling cutter portfolio is THE new high-performance milling system for roughing and pre-finishing applications in the field of high-feed machining.
FOURWORX® offers a multitude of interesting properties which will enable users to advance into previously unattainable realms of performance.
Completely redesigned overall geometry
The extra performance is made possible by the completely redesigned overall geometry of the milling system. The significant outcome is that, for the first time, even the smallest tool diameter 16 mm boasts three inserts. With this branch novelty, cutting depths up to ap 0.75 mm and feed rates up to fz 1,2 mm/teeth can be achieved. And despite the small tool diameter, the innovative geometry guarantees maximum stability in use.
Inserts with four cutting edges
Similar attributes apply to the inserts. Despite the compact dimensions, a clearly visible and innovative reinforcing collar around the screw seat, together with a negative insert seat, provides for an enormously extended service life. At the same time, chamfered outer edges protect the inserts against spalling around the circumference. A 3D chip pocket guarantees optimum chip removal paired with maximum cutting performance. The corner radius of 1 mm stands for extreme stability at the outer tool diameter – even at high feed rates. The extremely precise inserts possess four cutting edges. In four different grade/coating combinations and with two chip-breaker grooves, they allow the machining of a broad range of materials and are optimally suitable for the machining of steel, cast iron and SAH materials such as titanium and Inconel.
New benchmark for economic efficiency
Overall, the innovative system design leads to considerable reduction of the stress in the tool and to significantly enhanced stability.
Even on less powerful machines, FOURWORX® milling cutters offer ultimate performance. Similarly, the new milling system also proves its capabilities with fragile workpieces and in deep cavities, both in wet and dry machining. Four times more performance, which looks set to redefine the benchmark for economic efficiency in the branch.
FOURWORX® is available in diameters 16 to 42 mm as end mills, threaded-shank mills and with patented DUOPLUG® system for optimised concentricity and maximum rigidity. All tools feature an internal coolant supply for absolute process reliability.
[Download not found]